Buying Second Hand

When buying second-hand, trampolines often have no brand on them. To make sure you get a good one:
Look for four separate 'V' shaped legs. Tramps with a single 'U' shaped leg at each end are in our opinion light-weight and not made to last. They are often near the end of their life when being sold second-hand.
Choose box-section steel side frames, not circular pipe. It is stronger, and tramps made from box-section are the good quality ones.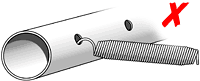 Get a frame at least 3.8m long. Smaller tramps are often inferior quality and in our opinion too small for safety.
Check the springs by removing some from the frame. The coils should be nice and tight together. Check also the hook where metal rubs on metal. Particularly on round pipe frames the hook can be worn thin in a groove; the hook can snap off if worn enough.
Check the overall condition. The mat can be replaced, as can the safety pads - but the price should reflect this.
Look for rust. Brown discoloration is not necessarily a problem if it is just on the surface and not eating into the frame. It can be wire brushed back and sprayed with a cold galvanising spray paint.
Count the springs. Even small trampolines have more than 50 springs. The tramps we sell new have 94 for the family model and 108 for the competitor model. At $2.50 a spring, missing springs can soon add a lot to the cost of a second hand tramp. However, if it's a good trampoline and the price is right, a few missing springs is no problem - we will happily supply replacements. Measure the springs when relaxed; good tramps have 250mm springs.
Note missing mat or safety pads. We make replacement mats and safety pads for all brands, models and sizes - it's what we specialise in. For small tramps (frame just over 3m long) replacement mats are usually around $120 to $135, and safety pads around $155. For large trampolines (frame 3.8m long) mats are around $165 and safety pads $275 (for sides and ends) and $95 for corner pads. The reason large safety pads are more expensive is they are much wider (to cover the longer springs) as well as being longer.
The prices given should be used as a guide only; we need measurements to give an exact quote. If you are looking at a second-hand tramp, take a tape measure and mobile phone and call us while you are looking at it - we will be happy to give you a quote or just give advice.


---